[News Articles on CubeCar, Carsharing]
(Original article was written in English: https://news.naver.com/main/read.nhn?mode=LSD&mid=sec&sid1=004&oid=030&aid=0002736808)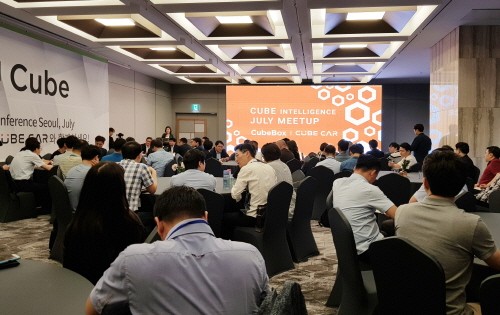 The first P2P car sharing company in Korea is created. P2P car sharing means sharing individuals' cars, just as Airbnb is sharing a private house with guests. Cube Intelligence, a blockchain technology developer in autonomous vehicles industry, announced that it will launch a P2P car sharing service, CubeCar at 2018 sharing festival Seoul, which is being hosted by Seoul City on September 7, 2018.
P2P car sharing has attracted a great deal of attention worldwide recently. Not long ago, Softbank invested a large amount of 300 million dollars in North American P2P car sharing company Getaround, and Europe-based P2P car sharing company Turo also attracted 230 million dollars. Daimler-Benz also acquired a P2P car sharing company, Croove, yet did not disclosed the accurate acquisition price.
P2P car sharing company is getting much interest from car makers. This is because the automobile market is expected to turn into car sharing in preparation for the eventual change of the automobile market into the autonomous car market. This means that a particular traditional car sharing company will not be able to clean or manage the car, and eventually the P2P car sharing company will take the lead in every car market.
Overseas, municipalities and governments also recommend P2P car sharing. It is a part of government and consensus that cars are now recognized as the main cause of fine dust and air pollution. To solve this problem, carsharing has been tried by multiple companies, but the pollution increased as the car sharing companies increased the purchase of new cars to share.
Currently, 95% of cars are not used in underground parking lots. Sharing these private cars can save a lot of parking space, and this space can be used as a green space to improve the environment. In addition, the citizens could use the parking spaces for other purposes which leads economic efficiency much higher.
"We expect P2P car sharing to contribute to parking space problems and fine dust problems," said Richard Biggs, CEO of Cube Intelligence. "In particular, since individuals manage car that are shared, our goal is to create cleaner car sharing culture. "
"We will link the P2P car sharing to autonomous vehicles with the security technology based on the blockchain that are currently under development."